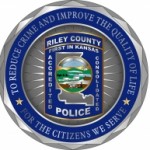 Riley County Police have confirmed they are investigating the discovery of a large amount of blood in a building, possibly a bathroom, in the vicinity of the Blue Earth Plaza near the Flint Hills Discovery Center.
RCPD Lt. Josh Kyle confirmed the investigation to KMAN early Friday afternoon, and says officers are trying to determine the source of the blood.
Manhattan Parks and Recreation Director Curt Loupe confirmed the blood was found in a bathroom at the park, and he and his department are trying to get background and information to police pertaining to who might have used that bathroom.
——-
The source of the blood was finally reported on December 26th.  Riley County Police said the blood is believed to be Clark Trawick's (32).  Trawick lives in Manhattan and suffered a significant injury after falling down that day.  Although he denied transport, he was later taken to Mercy Regional Health Center where he was treated and released.