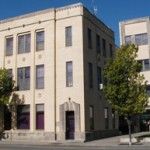 In 2007, a study was conducted on how to best utilize the county office buildings.  After this study was revised in 2008, a few different options were formulated.
Public Works Director, Leon Hobson came before the Riley County Commission during their Thursday meeting to focus mainly on one particular option.  This plan would first require the purchase and demolition of the First Christian Church.  A new four story county building would be constructed in it's place that would house all of the various departments that are currently scattered throughout the area.  This facility would be an estimated 108,000 square feet and would provide amenities, such as a new court support courtroom and extra storage.  If the commission decided to move forward with this plan, the Plaza East building would more than likely be demolished in order to provide additional parking.
Police Department Director, Brad Schoen mentioned he had spoke to Judge Meryl D. Wilson about this issue.  Schoen said, "the courts basically said we are 'out of space' and Judge Wilson is interested in participating in future discussions concerning this".
With this building, and all the other county buildings, the total space available would be 135,315 square feet.  Other options, including renovating and/or adding on to other facilities would be costly as well, but would not provide the one central location to house all departments.
Commissioner, Karen McCulloh commented by saying, "I really don't think I can vote on this, because I won't be here".  With this comment, the commission decided to wait till the new commission is appointed in January before further discussing this issue.
Department head evaluations are still taking place.  County Appraiser, Greg McHenry and Public Works Director, Leon Hobson were both reviewed in executive session.
The commission also heard 2012 accomplishments and 2013 goals from both the Clerks Office and the Treasurer's Office.  Both County Clerk, Rich Vargo and County Treasurer, Eileen King reported good news and received high praise from the commission on their efforts this year.
Budget and Finance Officer, Johnette Shepek also reported good news with the 2012 budget amendment.  The commission approved the budget and it will be published for the public to view soon.
Other items on the agenda included updates from Manhattan Area Chamber of Commerce President, Lyle Butler and County Health Department Director, Susie Kufahl.