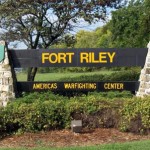 Saturday begins the first of many homecomings as soldiers from the 4th Infantry Brigade Combat Team, 1st Infrantry Division.
Family and friends will be reunited with the returning 150 soldiers during a ceremony beginning at 5:15 pm Saturday at Fort Riley.
This brigade was deployed to Afghanistan in April, where their  mission was to enable the country's government, security forces and economy to operate more independently.
The remaining 4th Infantry Brigade soldiers will continue to return to Fort Riley throughout the following weeks.