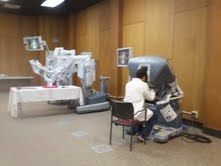 When we hear da Vinci we likely think of Leonardo of the Italian Renaissance who was a famous painter, sculptor, architect, musician, scientist, mathematician, engineer, inventor and anatomist. And not surprisingly a new da Vinci Surgical System at Mercy Regional Health Center in Manhattan follows along that line, with a sophosticated robotic platform designed to expand a surgeon's capabilities and offer a minimally invasive option for surgery.
The system was unveiled to reporters Wednesday, with Urologist Dr. Laki Evangelidis telling reporters how the system is an improvement for surgeons.  While seated at the da Vinci console, the surgeion views a magnified, high-resolution 3D image of the surgical site and the robvotic arms emulate the movement of the surgeon. Benefits listed include less blood loss, a smaller incision, less recovery time, a better field of vision for the surgeon and a greater surgical precision so sophisticated it can peel a grape. 
Mercy has already performed eight surgeries using Da Vinci, including removal of kidneys and gallbladders.
The new da Vinci Surgical system will not only bring more patients to the Manhattan medical facility, but likely will also encourage more doctors to locate here. That's according to urologist Dr.  Evangeledis, who displayed the new robotic platform to reporters Wednesday.
Evangeledis says the surgery began with the military, with attempts to find ways to work on soldiers thousands of miles away.
Mercy Regional Health Center President and CEO John Broberg was obviously proud and excited Wednesday, with the unveiling of athe new robotic platform. saying  the 1.5 to 2 million dollar system has already been used successfully at Mercy.
Broberg admits the technology is available at other locations in the state such as Wichita, Topeka, Kansas City, Salina, and Hutchinson–and says now people won't have to go elsewhere for the robotic surgery, which is becoming a preference in several fields such as urology and prostate-related procedures.