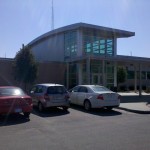 A felony possession landed a Manhattan man in Riley County Jail.
Joshua Williams, 23, of the 1300 block of Yuma, was arrested for felony possession of marijuana and possession of drug paraphernalia .
Williams is being held on a five thousand dollar bond.
——
On Thursday, a pedestrian accident occurred causing a citation for one driver.
Taylor Pearson, 21, was driving east on Fort Riley Boulevard attempting to make a left hand turn on south 4th street when his 1991 red Pontiac Firebird struck 53 year old Barbara Bailey's 1997 white Ford Taurus at about 2 pm on Thursday.
Bailey's vehicle then proceeded to strike Kevin Delarosa, 28, who was walking in the crosswalk of south 4th Ave.
Delarosa was transported to Mercy Regional Health Center for non-life threatening injuries, but was treated and released.
Pearson as cited with failure to yield the right of way.