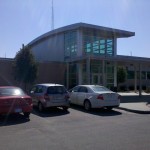 The Riley County Police reported Monday a criminal damage to property case last week with someone shooting a car.
Matthew Dodson, 25, of Manhattan, reported that between December 4 at 5 pm and December 7 at 3 pm his 2008 red Ford Mustang was parked outside a residence when it was shot with a bullet through the trunk.  There was also damage done to the bumper from an unknown source.
Total estimated damage was $1,000.
—
Over the weekend, a Manhattan woman reported that her ex boyfriend violated an active restraining order.
The 22 year old Manhattan resident reported to the Riley County Police department that her ex boyfriend broke out a window to her residence in the north central part of Manhattan while she was there.
Upon entering the residence through the window, the suspect allegedly sexually battered the victim, refused to let her go and kept her from calling police.
Charges at this time include aggravated burglary, aggravated sexual batter, violation of a protection order, criminal restraint, intimidation of a witnessed, and criminal damage to property. No arrests have been made and the investigation continues.
—
Over the weekend, an aggravated battery was reported in Aggieville.
A 23 year old female Kansas State Student reported to the Riley County Police Department that at about 12:30 am on Sunday an unknown male allegedly pushed her against a wall in the 1100 block of Moro and sexually battered her.
The suspect is described as a white male.
The investigation continues.
—
An incident of road rage leads to a report to the Riley County Police Department.
Austen Serrano, 17, of Manhattan reported to the Police that on Sunday between 2:45 and 3:05 pm he was on the 2000 block of Ivy Drive when another driver pulled in front of his vehicle, blocking him in.
The suspect then proceeded to confront the victim and took his keys.  A verbal argument ensued drawing the attention of neighbors who made the suspect returned the car keys. He then fled the scene.
Police do not know  how the incident began, but they are investigating leads, and no arrest has been made at this time.
Charges are looking to possibly include criminal restraint, battery, criminal deprivation of property and disorderly conduct.
—
An injury accident occurred Sunday morning when a vehicle rolled.
Melissa Posten, 38, of Pottawatomie County, was traveling north of Deep Creek Road when she traveled off the roadway over-corrected and ended up in the ditch rolling her vehicle.
Posten was transported to Mercy Regional Health Center with two fractured ankles and a laceration to her nose.  She is still being treated.