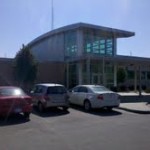 A local man was taken into custody Wednesday morning when he caused significant damage to a hospital room.
Riley County Police told reporters on Thursday that they were called to the Mercy Regional Health Center Emergency Department around 8:00 a.m Wednesday on a report that an angry and out of control patient had damaged a window and a wall in one of the department's rooms.
Police arrested  Benjamin Lucas Kempthorne (37) of 24 Waterway PL. in Manhattan, and charged him with criminal damage to property. Damage to the hospital was estimated to be $11,000.
Kempthorne was released on $1,500 bail.
_________________________________________________________________________________________
Four Manhattan residents return home to find their home burglarized.
Riley County police told reporters on Thursday that  Aaron Winter (23) of  807 Bluemont reported to them that sometime between December 21st and 23rd, an unknown suspect broke a window in a home that he shared with three others and made entry.
Several electronic items were removed including a 60 inch flat screen television, numerous gaming systems, games, and a lap top computer. The loss is estimated to be $4,080.
Police are investigating.