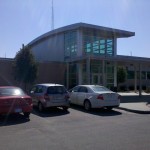 Some tires and rims have been stolen recently from a local business.
Four tires and four rims were taken out of the back of a truck in the parking lot of Tires for Less located at the 1400 block of Fort Riley Boulevard sometime between December 26 and 27.
The theft totaled about $1,200.
—-
An altercation at a local bar has landed man in jail.
At about 2:00 Friday morning, Riley County police were called to the Blackstone Tavern located in the Westloop Plaza.
Upon arrival, police witnessed Naim Alamin, 33, of Manhattan, getting into his vehicle and taking off at a high rate of speed northbound on Beechwood Terrace.
Alamin ended up driving into a cul-de-sac and hit a curb which disabled his vehicle.
Officers detained Alamin, while investigating a reported battery at the bar.  A search also uncovered Alamin was in possession of cocaine.
Alamin is being held on a $6,000 bond on charges of possession of cocaine, felony flee and allude , DUI, battery, driving while suspended and refusal of a breathalyzer .