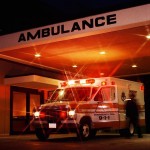 Update as of noon Thursday:
Details have been released regarding a fatal tractor accident north of Junction City Wednesday afternoon.
80 year old Clayton Moon was pronounced dead at the scene, just off highway 57.
Geary County Sheriff Jim Jensen indicates Moon was moving a bale of hay on a hill when the tractor he was driving overturned on top of him. The coroner was present to pronounce Moon dead at the scene and an autopsy is not planned as the coroner indicates it was an apparent accident.
The accident occurred about 4:30 Wednesday afternoon.
Older report:
KMAN news has received word of a Tractor roll over that resulted in the death of an elderly man.
A Geary county man reportedly was killed when the tractor he was using to work his land rolled over and pinned him underneath it.
The 80 year old victim, whose name is not being released at this time while authorities work to notify his family members, was working his own land when the accident occurred . Reports indicate he was already dead when emergency crews arrived.