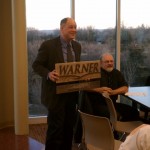 The Flint Hills Regional Council will under-go a change in leadership as Executive Director, Ty Warner, has resigned. Warner will take a new role as Executive Director of the North Western Indiana Regional Planning Commission.
Gary Stith, will step in as Interim Executive Director, while the Flint Hills Regional Council begins a national search to find a permanent replacement for Warner.  Stith has over 38 years in public and private planning practice, and led the redevelopment of downtown Manhattan. Stith is also a Visiting Assistant Professor of
Landscape Architecture / Regional and Community Planning at Kansas State University.