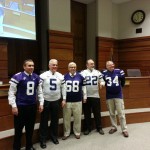 Bicycling, storm water drainage at a local park, and the structure of the Metropolitan Planning organization headed up the items at Tuesday Night's Manhattan city commission meeting. 
Public participation was strong as residents and commissioners tackled the CiCo park drainage study and recommendations issue.  Commissioners informed city staff to investigate more options to fund erosion preventative measures, and lessen the impact of a possible benefit area consisting of 25 residences near the project.  A detention plan would be paid for by the city itself.
A presentation on improvements to Bluemont Avenue from 11th street to North Manhattan Avenue took a turn when a portion of the project proposed a new bike lane to help ease the flow of transportation from Aggieville onto northbound North manhattan Avenue.  Manhattan Bicycle Committee member Micheal Wesch presented a case for the lane, and advised it would promote safety and reduce costs in the long run to the city.  Aggieville Business Association executive director Evan Tuttle says the idea isn't supported by his association based on the opinions on businesses in the affected section.
Finally the structure of the Metropolitan Planning Organization took another step as commissioner Wynn Butler briefed the commission on upcoming structural proposals to the MPO.  Commissioner John Matta voiced his opinion that Manhattan maintain control of the MPO due to having to shoulder the lion's share of the financial burden involved in the organization.  Mayor Loren Pepperd disagreed, and said he believes the MPO should be a part of a regional effort to promote regional projects.
The commission decided to go with KDOT's proposal of Manhattan maintaining three votes, Junction City two, and the rest of the MPO delegates having one vote each.