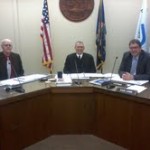 During Monday's Riley County Commission meeting, IT/GIS Director Robert Nall made the request to have the county's aerial photography updated.  During this time of year, the trees are bare and the visibility is much clearer.  The commission requested that Nall look into collaborating with other surrounding counties.
Nall returned to Thursday's commission meeting and shared the results of his research.  Pottawatomie county, Geary county, Fort Riley, and the city of Manhattan were some of the places Nall checked with, many of which never responded or were only interested in portions of the photography project.
Although collaboration can be a good way to save money, the negotiations that go with it are often difficult.  "What our needs are, might not be what Fort Riley's needs are or the city's needs are.  Fort Riley is only interested in Fort Riley, the city is only interested in the city, and we are interested in all of it", said Nall.
The commission thanked Nall for his efforts in contacting other areas, and unanimously approved to move forward with the project.  Bids will open on February 21st.
Budget and Finance Officer, Johnette Shepek came before the commission to share information about the 2013 commission budget, CIP budget, economic development budget and the county building fund five year history.  This was mainly to provide an overview of some of the funds for the new commissioners.
Shepek also provided information on the sexual assault exams and kits that were previously brought up during a commission meeting.
The commission requested that Riley County EMS Director, Larry Couchman come in and shed light on this topic in the near future.
County Counselor, Clancy Holeman requested approval for the amended contract for recycling services, which was unanimously approved after a brief discussion.  He also shared information about Senate Bill 81 which involved the protection of government officials.  The decision is leaning towards restricting, but not removing the bill.  Holeman commented, "it doesn't protect anyone, it doesn't do what it says".
The commission viewed video footage of sewer lines around University Park, many of which were cracked or had roots growing into them.  Public Works Director, Leon Hobson said they are lucky there is only a few houses out there, but in a few short years they will likely collapse.
A work session involving this issue was set for Monday's meeting.