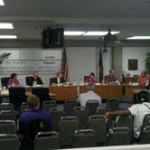 The paperwork has finally been finished and now the Manhattan High school project is officially wrapped up after Wednesday night's Manhattan Ogden school board meeting.
Representatives from Adolfson & Peterson Constructions were on hand to inform the board that they would be crediting back about $61,000 to the district.
The Manhattan High School schedule was also up for the public to weigh in.
Two people expressed their option the schedule should remain as is and Doug Messer, Transportation Director for the district, added his take on how each of the schedules would impact the transportation department.
According to Messer, options 1 and 2 that were presented last month would create a need for a larger fleet, which at this point the district does not have the capability of housing buses nor staff.
The board also gave out a special recognition for the Master Teacher to Terry Healy, one of USD 383's Gifted Education teachers.
Board President Dave Colburn also made the proclamation the week of January 20 through the 26 will be in remembrance of Martin Luther King, Jr and what he stood for.
Other news from the board included Woodrow Wilson will be holding their open house on Thursday, January 17 from 6 pm until 7:30 pm.
Next week, they will be holding a special meeting to open the elementary school schedule for a public hearing beginning at 6:30 PM.