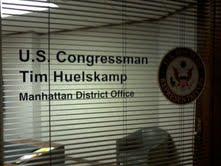 Congressman Tim Huelskamp has recently opened an office here in Manhattan.
Congressman Huelskamp represents the First District of Kansas, serves on the House Small Business Committee and the House Committee on Veteran's Affairs, and is a member of the Republican Study Committee.
Announced back in mid-December, Huelskamp announced the opening of a brand new office to benefit Manhattan, as well as Riley and Pottawatomie counties.
The office is located at 727 Poyntz Avenue, Suite 10 in the Commerce Bank Building.  Huelskamp's staff serving in Salina, will travel multiple times per week to provide in-person constituent services.
"The region is a hub of activity, and we want to be sure that we are as available as possible to constituents in need of assistance or those who just want to share their feedback with us", Huelskamp said.
Every week, hours for the office will be posted at http://huelskamp.house.gov/manhattan.