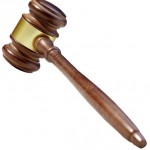 LAWRENCE, Kan. (AP) A former Kansas State University English professor in prison for killing his ex-wife in 2003 is challenging the legality of his sentence.
Fifty-six-year-old Thomas E. Murray is serving 25 years to life in prison for the stabbing death of Carmin Ross at her home north of Lawrence. At the time, Murray and Ross were fighting over custody of their daughter, who was 4 at the time.
On Tuesday, Murray's attorneys will argue the attorneys who represented him at the murder trial did not provide an adequate defense.
The Lawrence Journal-World reports  that the civil lawsuit was filed under a law that allows prisoners to challenge their sentences.
The Kansas Supreme Court upheld Murray's sentence in 2008.
KMAN news had extensive coverage of that trial in Lawrence. The case also received national attention.