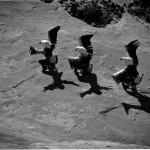 Opportunities to view indigenous peoples through the eyes of indigenous photographers are rare and recent. Our People, Our Land, Our Images , which opens Jan. 28 at the Flint Hills Discovery Center, presents the works of three generations of indigenous photographers from the North America, South America, the Middle East and New Zealand. They include newly discovered, nineteenth-century trailblazers, well established contemporary practitioners and emerging photographers from the next generation. Fifty-one works in the exhibition tell their stories through differing photographic approaches, ranging from straightforward documentary to aesthetically altered images that combine overlays and collage. The images stand united, however, in exploring their creators' connections to their land, community and traditions. Artists' statements accompanying the exhibition convey a variety of indigenous voices and
concerns. The 26 artists in the exhibition include Cherokee Jennie Ross Cobb, the earliest known female Native American photographer. The many perspectives represented in the exhibition offer an open-ended experience that asks
audiences to think about how the camera in the hands of indigenous peoples becomes a tool with the power to confront and analyze stereotypes, politics and histories.
Our People, Our Land, Our Images  also demonstrates the longevity and continuing vitality of native photographic traditions. "This is an opportunity for the people of Kansas to gain a better understanding and appreciation for indigenous peoples throughout the world. Our People, Our Land, Our Images  is a professionally developed
exhibit that celebrates the work of 26 native artists and can help us understand our cultural differences -locally, and globally," said Jared Bixby, curator of education, FHDC.
The exhibition will remain open in the Flint Hills Discovery Center's temporary gallery until March
16. For information about hours and admission, visit www.flinthillsdiscovery.org, call 785-587-2726 or visit
315 S. 3rd St. in Manhattan.