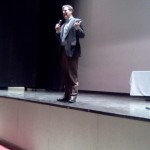 The third Governor's Flint Hills Visioning Summit took place on Friday at the Rock Springs 4-H Center south of Junction City. This summit brought together stakeholders from all over the Flint Hills region and across the state of Kansas. This summit is a follow up to summits held in 2011 and 2012, and continues the initiative to grow the Kansas economy and create jobs.  Almost everyone in attendance had some interest in the Flint Hills region, and were coming together to brainstorm ideas on how to make the region better. Governor Brownback and his administration will use the input gathered from this summit, as well as the previous two summits, to help move along a strategy for the Flint Hills region.
The morning session was dedicated to regional stakeholders and policy makers speaking on a variety of issues concerning the region. After a hour long lunch break, the afternoon portion was dedicated to breakout sessions and panel discussions that focused on more specific topics.
Governor Brownback did attend the summit, and spoke at the start of the afternoon session. He expressed happiness at the progress that the region has made in recent years and said that tourism has really connected to the natural heritage of the region.
The summit was another step toward creating thriving and sustainable rural communities throughout the Kansas Flint Hills.