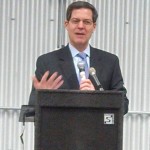 GTM Sportswear held a ribbon cutting ceremony for the opening of a new state-of-the-art UltraFuse Sublimation Center at the GTM Campus in Manhattan. Owner and CEO of GTM Sportswear, Dave Dreiling; Kansas Governor, Sam Brownback; Manhattan Mayor, Loren Pepperd and President of the Manhattan Chamber of Commerce, Lyle Butler took part in the ceremony.
GTM's new UltraFuse uniforms are created with an advanced dye sublimation technology in which graphics, names and logos are heat-infused directly into fabric. The Sublimation process allows for greater design detail and more color possibilities for GTM's athletic wear.
Competitors are building sublimation technology overseas, which causes UltraFuse uniform orders to take weeks and sometimes months to fulfill. However, since GTM brought the technology to the Midwest, orders will likely only take a matter of days to fulfill.
Utilizing an incentive package from the Kansas Department of Commerce valued at over $2 millioin, GTM looks to create nearly 650 new jobs over the next 5 years.
To learn more about Ultra Fuse sublimated uniforms, visit gtmultrafuse.com.