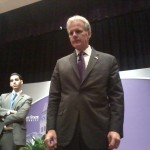 "What better day to have a Landon Lecture?", said Kansas State University Provost, April Mason during the 162nd lecture presentation on Tuesday.  Considering that is was Kansas Day, Mason took the time to comment on some of the history in our state, as well as the history of the lecture series itself.
For over 40 years, Kansas State University's Alfred M. Landon Lecture Series on Public Issues has brought prestigious speakers to campus.
Israeli Ambassador, Michael Oren was the featured speaker with his presentation-"Israel, The Ultimate Ally".  Oren began his lecture by shedding light on what Israel is like and it's religious affiliation and background.  During this time, he commented on the seal of America argument, when the options were the bald eagle, or Moses.  "There was a very intense debate about this, over the seal, and America came this close to having Moses as its national symbol", said Oren.
Oren spoke on the advances in Israel, as well as it's relationship with America.  Israel is the only country that has a memorial for John F. Kennedy, Martin Luther King Jr. and 9/11.  It also houses two different Liberty Bell replicas as well.  Israel is responsible for the creation of USB drives and web browsers on cell phones.  Trade between Israel and the U.S. over the last decade has increased by 350%.