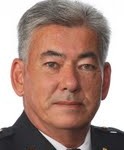 After 36 years, Manhattan Fire Chief Jerry Snyder is calling it quits. Snyder made it official Thursday, telling KMAN he'll be retiring for the second and last time, effective February 28th. He says it's been a great run. 
Snyder says he doesn't have definite plans yet, but he definitely wants to remain in Manhattan.
Snyder says he loves Manhattan and that it's been a great place to work.
Snyder joined the Manhattan fire department in January of 1977.
He talks about how much safety has improved for firefighters. He remembers the Aggieville Fire of 1998 when he was shift commander, as well as the Mill fire.
He also thanks the city manager, city commissioners, and others in the community who have been supportive.