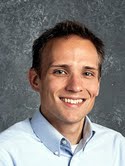 An Anthony Middle School's teacher was named one of 32 Kansas Horizon Award Winners.
Jesse Peters, 8th grade social studies teacher, was named a 2013 Kansas Cable Telecommunications Horizon Award recipients.
This award recognizes exemplary first-year educators and is sponsored by the Kansas State Department of Education and the Kansas Cable Telecommunications Association.
To be eligible for the award, teachers must have successfully completed their first year of teaching and have performed in such a way as to distinguish themselves as outstanding. The program is a regional competition with four regions corresponding to the state's U.S. Congressional districts. Four elementary and four secondary classroom teachers may be selected for the award from each region.
Bob Seymour, Associate Superintendent for USD 383, told KMAN he's happy to be able to recognize one of the district's teachers.
""We've had several of those, but they don't always come from the district.  It's not necessarily, you have one for every district.  So, we're real proud of that."