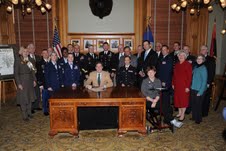 Update: KMAN caught up with John Armbrust, and he provided more details regarding possible military spending cuts. He reinterated Governor Sam Brownback's statement regarding the military saying that "we need to do whatever we can to help the military reduce their costs of operations on their bases, but also do it in a way that is good for the community". Armbrust goes on to say that while the number of cuts is high across the armed forces, they were not totally unexpected, and that "all we can do is to continue to make sure that we are strong here in Kansas".
TOPEKA, Kan. (AP) The Governor's Military Council, directed by John Armbrust of Manhattan, is preparing to make the case for maintaining the presence of the armed forces in Kansas ahead of likely cuts in defense spending
At a meeting Wednesday, the council focused on the potential loss of spending and personnel at Fort Riley, Fort Leavenworth and McConnell Air Force Base. The Department of Defense projects cutting 114,000 personnel nationwide by 2021.
The council is also watching the competition among states to house the new KC-46 air refueling tanker. The Air Force announced earlier this month that McConnell and Topeka's Forbes Field were finalists. Decisions on where to base the tankers are expected later this year.
Armbrust is a frequent visitor on KMAN's "In Focus."