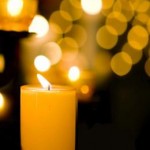 Members of the Manhattan community came together Saturday night at the Manhattan High school east campus to honor the memory and the dream of the late Martin Luther King Jr. The MLK memorial event sought to celebrate the ideals of Dr. King through an inspirational speech, followed by a candlelit march that sought to reenact those marches that took place during the civil rights struggle.
The speech was delivered by Dr. Glenda Overstreet, who is a columnist for the Topeka Capitol Journal as well as President of the Kansas State chapter of the NAACP. Overstreet talked about where humanity is as fas as "our dream of being together, and with respect of helping our brother in the community". She also says she she "believes that the dream of America and the dream of the state of Kansas are Martin Luther King's dream, and that is a dream of unity. She also spoke of minorities in the press, saying that the "information that she shares with regards to minorities in the press is all about unity and the ability to be able to communicate to the community so that everyone is aware of the richness of diversity. and how we can all grow as a community".
The speech was followed by a candlelit march from the school to the First United Methodist church. Reverend J. Edgar Spencer, who is the chairman for the event, says that "the essence of this is that everybody marched in the civil rights era in the sixties, and marches represented unity, faith, and working together".
As participants marched, they sang the historic civil rights protest songs such as "We shall overcome".