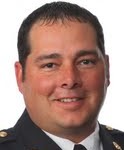 Manhattan has a new Fire Chief. Scott French, who had been serving as Deputy Chief of Operations, will take over the new role March first, replacing Chief Jerry Snyder who is officially retiring as Director of Fire Services.
French is pleased with his new role, but tells KMAN not to expect any big differences in the way things are taken care of. French also thanks Chief Snyder for his dedication and leadership.
In addition to serving as Deputy Chief of Operations for the city of Manhattan, French has held the positions of Assistant Chief, Lieutenant I and II, Fire Driver I and II, Firefighter I and II, and began his career with the city as a student firefighter in May of 1994.