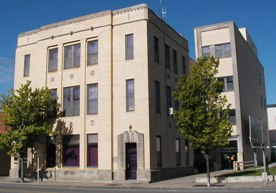 The Riley County Police Department's current narrow banding radio system is becoming outdated.  Although previous modifications were made to make the system last longer, it is believed that the system was installed in the 1980's.
Emergency Management Director, Pat Collins came before the county commission during their Monday meeting to discuss some of the problems with the system.  Police Department Director, Brad Schoen also shared a few statements regarding the system.  Both individuals stated that the recent amount of problems, and the fact there is adequate funds available to purchase a new system, there is no real reason this should not be done.
The commission unanimously approved the request for a new narrow banding radio system.
As the city commission plans to discuss the metropolitan planning organization (MPO) in it's upcoming meeting, the question is still on the table whether to add aTa bus to the technical advisory committee so it can gain the chance to vote.  "With the possibility of shrinking down the map, adding aTa bus would not make much of a difference", said County Counselor, Clancy Holeman.
Commissioner, Dave Lewis shared the same opinion saying, "It's not worth the battle to go to a smaller MPO map from this issue".
aTa Bus Director, Anne Smith was invited into the meeting to share her views on this issue.  She seemed to share the same thoughts saying, "we're not willing to draw a line in the sand over this issue".  Becoming a part of the committee may result in the requirement of downsizing the aTa bus service.  Smith said the number of rides has increased from over 72,000 rides last year,  to over 157,000 rides this year.  For this reason, and the requests to add more trips, Smith does not see downsizing as a smart idea at all.
It was decided that Holeman would begin working up a letter to the city commission recommending that they not make a decision on this issue until the technical board is picked and the map is finalized.
During the meeting's press conference, Commissioner, Dave Lewis honored both Commissioner, Karen McCulloh and Commission Chair, Alvan Johnson for their years of service by awarding them plaques.  Both individuals gave short speeches saying thanks to the department heads for all their hard work.