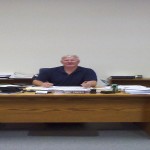 For their first meeting of the new year, the Pottawatomie County Commissioners continued to see a number of items on their agenda.
Like most every week, a number of departments came in to give their monthly updates and for some this included year end numbers.
"We discussed the environmental health program," said Scott Schwinn, County Sanitarian and Transfer Station Supervisor.  "The numbers for the Blue Township Sewer district were up considerably, however, the numbers for in the county for health permits were down."
For the county zoning department, numbers ending in December were more than those presented last year as Gregg Webster, zoning administrator, talked about the 15 new building permits, which totaled about $3.4 million.
Like department updates, there was also the update on the new Justice Center in Westmoreland, which has been causing some real issues for the commission.
Dan Rowe, Vice President of Treanor Architects, made an appearance to talk about a couple of issues that last week sparked some harsh words towards those involved.
Rowe apologized to the commission for giving them inaccurate costs concerning some structural reinforcement that until last week the commission had no idea was a problem.
Rowe explained that what he told the commission months ago was thought to be an option to fix the issue, but after further review by the engineers was no longer compatible with the situation.  This information can to the commission last week in a change order sparking the concerning.
Commissioner Stan Hartwich had some strong words for Rowe.
"I guess what really disgusts me is the fact that we went back to October and for a little bit of nothing could have strengthened those floors up.  I'm disappoint that the right decisions weren't made at that time."
The commission also showed disappointment at the absence of Loren Dekat, Project Manager for KBS, at the meeting as well.
Next Monday will hold their next regular business meeting.