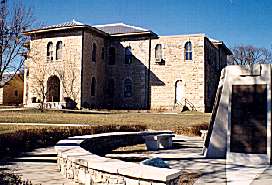 It was back to the grindstone in Pottawatomie County Court Wednesday, with lots of activity the second day of the new year.
Kayla Paz, 25, entered a plea of no contest to four counts of animal cruelty, and was then found guilty. Paz is scheduled for a January 17th sentencing.
Paz and four others were arrested in connection with a December 2011 case involving neglected horses.
In other court action Wednesday,  Lacey Peters. 26, of St. Mary's entered a plea to possession of marijuana and drug paraphernalia. She originally was charged with methamphetamine distribution within one-thousand feet of a school.
Peters was given 12 months but granted probation for 18 months. She is to pay all fines and costs and will have to undergo a drug-alcohol evaluation and is subject to monthly checks.
County Attorney Sherri Schuck adds four people were arrested in connection with thefts at Walmart the past weekend, with substantial bonds originally set. Taken into custody were Sadaya Marshall, 21, Shanell Praylow, 25, Todd Anderson, 47,and Kennesha Riley, 19, all of Topeka.
Charges vary but each faces felony theft, with all but Riley also charged with aggravated burglary and criminal trespass. Bonds originally varied from $15000  to $25,000  but were reduced over state's objection Wednesday. Preliminary hearings are set for January 14th.