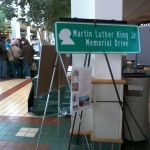 This year marked the 30th anniversary of the Martin Luter King Jr. Memorial Committee and their celebration.
The event, held Monday in Manhattan Town Center, featured presentations, awards and performances. The 2013 Martin Luther King Jr. Award was perhaps the most prestigious honor awarded during the event.
Committee Chairman, Reverend Jim Spencer received this year's award, which was a big change considering nobody on the committee was allowed to win in previous years.  66th District Representative and member of the committee, Sydney Carlin said "after 30 years of keeping all of his together, we decided it was time to bend the rules".
"Every year has been a success due to the involvement and support of so many in the community", Spencer commented.
Spencer is a local small business owner, associate minister at Pilgrim Batpist Church, KHCA-Radio host and announcer, and serves on other boards and committees.
Awards were also presented for this year's Martin Luther King Jr. Art and Writing Contest.  This year's theme was "Peace:  Let It Begin With Me".  Over 200 entries from various ages participated in the contest.