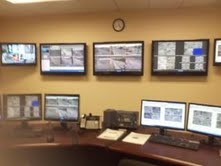 The traffic signals along the Anderson Avenue Corridor, from Sunset Avenue to 14th Street, have recently been coordinated with a new signal control system. The system will allow the traffic signals to more efficiently move vehicles and pedestrians through the corridor.
The city of Manhattan is asking residents to please be aware that the traffic signals will operate differently than they did before. Instead of following a typical pattern for each traffic movement, the signals will actively assessing the traffic situation and assigning the right of way based on demand.
The city is also asking for your patience at each traffic signal as the system is calibrated and implemented.