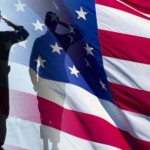 The 625th Transportation Detachment and the 378th Movement Control team were both recognized during Saturday's Mobilization Farewell Ceremony and Reception at Manhattan's American Legion.
Manhattan Mayor, Loren Pepperd was present at the ceremony to share a few words and stress the importance of the soldier's mission, and the importance of the support from family members and friends.  Pepperd concluded his speech by saying, "God bless and come back safe!"
Brigadier General Kenneth D. Jones also shared a few words.  He spoke about the nation's constant war since 2001 and the toll it's taken on our country for those 12 years.  Jones first spoke directly to the soldiers saying, "It's our soldiers here today that will stand up and be counted on.  It's your time to step forward and your responsibility to do well.  What you do is important."  Next, Jones mentioned what the army reserve uniform symbolizes.  "The uniform is a symbol of our nation's commitment to freedom, duty, honor, respect and integrity", Jones said.  Lastly, he referenced the families.  "While our soldiers make sacrafices overseas, the families are making sacrafices at home", Jones commented.
The audience also heard from the commanders of both teams:  the 378th Commander, Randall D. George, and the 625th Commander, Kassondra L. Skye Palmer.
Other speakers at the event included Colonel. Colby D. Jewell and Lieutenant Colonel Bradly Boganowski.
The 625th MCT mobilized during Operation Noble Eagle in 2002 and Operation Iraqi Freedom in 2008.  The 378th MCT mobilized during Operation Iraqi Freedom in 2003 and 2008 and earned an official Meritorious Unit Commendation for Extraordinary Meritious Service from the Chief of Staff of the Army.  Both teams will be deployed to Afghanistan for around a year.