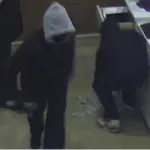 Riley County Police continue to search for suspects in a weekend armed robbery at a Manhattan hotel.
At about 4:52 AM Saturday two armed men entered the Hilton Garden Inn located at 410 S 3rd St, and demanded money from a clerk. An undisclosed amount of cash was taken, and there were no reported injuries
The first suspect was wearing a dark grey sweatshirt (possibly hooded) with a picture of a tiger on the front. The tiger emblem closely resembles LSU mascott, "Mike the Tiger". The suspect was also wearing dark Dickies Brand work pants, and red and white athletic shoes (possibly Air Jordans).
The second suspect was wearing one piece work coveralls with a light grey hoodie underneath.
One of the men was armed with a semi-automatic handgun. The top of the handgun (slide) was black in color; however, the bottom(frame) was chrome or silver in color.
A vehicle was seen in the area earlier in the morning. It was described as a Late 90s to Early 00's Pearl White Cadillac Deville with
tinted windows. It is unknown if the vehicle is related to the robbery.
If you have any information related to this subject you're asked to contact the Riley County Police Department at 785-537-2112. You can also contact Crime Stoppers at 539-7777 or 1-800-222-TIPS (8477); or send a web tip at manhattanrileycountycrimestoppers.com.