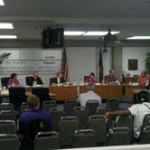 The Manhattan Ogden school board spent a majority of their meeting Wednesday discussing the schedules for the elementary schools and also for the high school.
To start the initial talks Board President Dave Colburn asked the board members assigned to the working groups to sort of review the initial undertaking.
The elementary schools schedule led the discussion and by the end a number of board members presented their choice on which direction to go.
Board members Walt Pesaresi and Leah Fliter and Board vice president Curt Herrman all voiced to follow Plan A.
For the high school schedule, however, there wasn't as clear a picture.
Pesaresi raised the issue as to when the items will be taken into effect and at this point, no time frame has been decided upon.
Colburn ended the work session stating this issue will be brought back and there will be time for additional public comment.
Other items that were decided upon included the paperless agendas and board meetings with a 7-0 vote, the first reading of the new time clock system with a 7-0 vote and the reinstatement of the Manhattan High School Assistant Principal position, again with a unanimous vote.