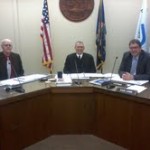 The only item needing action during Monday's Riley County Commission meeting involved a service agreement for renewable energy systems.
Public Works Director, Leon Hobson has brought information about the four new wind turbines to recent commission meetings.  When the turbines were first installed, none of them were functioning properly.  After visits from Ethos Company, three out of the four wind turbines were successfully fixed and are now up and running. 
The service agreements between county public works and Ethos have also been recent items on the commission's agenda, and Hobson chose to revisit this issue.  The Northwind turbine came with a five year service agreement, while the Ethos turbine did not.  It was discussed that Hobson should look into a smiliar agreement for the Ethos turbine. 
Hobson mentioned the department checked on prices and it is much harder to find individuals to work on the turbines than they realized.  Commissioner, Dave Lewis mentioned that signing a five year agreement would not be the best idea in terms of whether the company will still exist five years from now.
After a lengthy discussion, the signing of the service agreement was approved on a 2-1 vote, with Commissioner, Robert Boyd opposing.  Boyd did not oppose the idea as a whole, he just stated that he felt they were rushing into things and requested more research before moving forward.
This was the second commission meeting where County Counselor, Clancy Holeman showed the KAC weekly update video.  Each week, videos are made that address various bills and pieces of legislation that could have an effect on Kansas counties.  This video in particular addressed the property tax transparency bill, Senate bill 54 and Senate bill 61 on human trafficking, which have all been recently up for hearing.
Commissioners then took the time to comment on the video, and the various bills.
Convention and Visitors Bureau Director, Karen Hibbard provided an update on the bureau, as well as the welcome center.  Hibbard mentioned the idea of the center was formulated in the 90's and three counties have signed in support so far (Riley, Pottawatomie and Morris).
The rest of the meeting involved updates on various upcoming events, including the Manhattan Area Garden Show coming up this month, as well as department updates.