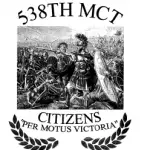 A mobilization farewell ceremony is planned for the U.S. Army Reserve's 538th Transportation Detachment, Movement control Teams this coming weekend.
The event will be at the VFW on South Fourth Street in Manhattan Sunday afternoon at two.
The unit is supporting Operation Enduring Freedom in Afghanistan, and will provide theater transportation by providing support operations and in-transit visibility of personnel and cargo. The teams mobilized to Iraq in support of Operation Iraqi Freedom in 2008.