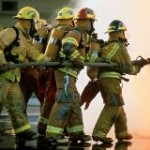 Fire has been reported at the Kirby House Restaurant in Abilene. The restaurant reportedly closed early Wednesday because of winter storm concerns, so no one was present when the fire was reported.
Kirby House was originally a mansion built nearly 130 years ago by Thomas Kirby, who was a banker. It has become a popular restaurant over the years.
Firefighters were on the scene Wednesday evening.