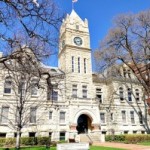 What started as a criminal damage to property led to two arrests for first degree murder and arson.  Those individuals arrested made an appearance in court Tuesday for their preliminary hearing statuses.
As KMAN previously reported, a structure fire occured at 820 Sunset Avenue around 11:45 p.m. February 6th.  The fire took the life of Vasanta Pallem, 34, and the two arrests were made in conjunction with this case.
Patrick Scahill (20), of Manhattan, was arrested for first degree felony murder and aggravated arson.  He is held on a $1,000,000 bond.
Virginia Griese (19), of Manhattan was arrested on the same charges and is held on the same bond.
Both made their first court appearance Tuesday via closed circuit webcam in front of Judge William Malcolm.
Griese appeared first, with her attorney Jillian Waeshe.  A preliminary hearing for Griese was set for March 22nd at 1:00 p.m. in Riley County District Court.
Scahill stated his attorney would be Kevin Regan out of Kansas City, Missouri.  Due to the fact the court was not aware of this, and Regan was not present, a status hearing was held for March 12th at 1:00 p.m. in Riley County District Court to keep the case moving forward.