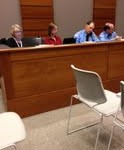 It was a day of reviewing goals from the past year and looking toward the coming year for the Riley County Law Board Tuesday.  Progress indicators in 2012 were basically met, according to Riley County Police Director Brad Schoen, who went over the approximate half dozen goals. Some of those are improving traffic safety, reducing crime, increasing public satisfaction, and making use of available technological advances.
One particular goal that created discussion involved mental health housing needs, with an ad hoc working group discussing the matter. Board member Wynn Butler indicates he wants to see something concrete and less talk. Director Schoen agreed in some respects, but didn't think it sould be the law board's role to spear-head the effort. Board Member Dave Lewis suggested at the end of the meeting the matter continue to be considered, with Butler also suggesting technological matters as a continuing goal.
Schoen made special note of increasing community awareness of RCPD's mission and practices. He pointed to a new public information officer and improvement of social media such as twitter and facebook.
While the approximate half dozen goals created considerable discussion, law board memers seemed receptive to what had been presented.
Goals for the coming year will be examined again at the March law board meeting.
Manhattan's unofficial Fake Patty's day celebration is drawing closer, and  a brief discussion occurred at the  Riley County Law Board meeting. Dave Lewis asking Riley County Police Director Brad Schoen about preparations for what's become an annual event, who said not much new is being done. Several meetings involving bar owners and the Aggieville Business Association have been held in preparation for the March ninth anticipated celebration.
.