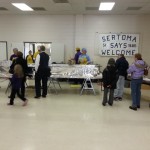 The Sertoma service club held it's fifty-first annual pancake and groundhog feed Saturday morning at Pottorf hall near Cico park in Manhattan. Guests had the option of either paying for their tickets in advance, or to pay at the door. Ticket prices were $5 for adults and $2.50 for children aged 6-12, with kids under 6 eating for free. The ticket got you all you could eat pancakes fresh off the grill and two sausages (groundhogs) with additional sausage available for a small fee.
Chair for the event Ann Smit explains that that the Sertoma club's name itself means service to mankind and that the main charities that they support deal with hearing and speech. The event was a fund raiser to sponsor speech and hearing, but also for the Senior Center, the hearing aid recycling program, and v
arious other charities such as the Friendship House, Habitat for Humanity, Shepherd's Crossing, the Crisis Center,Manhattan Emergency Shelter,and the KSU Communication Disorders program. Graduate students from that program were on hand to help out in any way that they could, as well as to attain the volunteer hours that they needed to proceed in the program.
In addition to raising money from ticket sales, the Sertoma club also received a percentage of the profits from a sale at the event put on by the HIC corporation , which was selling items such as purses, scarfs, and jewelery .
Smit states that in the past, this event has raised around four thousand dollars, and she expects this year's event to do just as well, if not better.