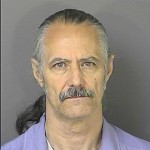 An inmate serving time on Geary county convictions of attempted first degree murder, aggravated kidnapping, and aggravated sodomy is eligible for parole in the near future.  Tabor Adkins, 65,  was convicted in the 1983 cases and has been in jail ever since.
As KMAN news told you at the time Adkins was up for parole in September of 2009, but parole was denied at that time.
Public comment sessions will be March 18th at the City Hall In Kansas City, March 20th in the Finney State Office Building in Wichita, and March 22nd at the Landon State Office Building. Letters may also be sent to the Kansas Department of Corrections in Topeka.
The actual parole hearing will be in April, with the earliest possible release in May.