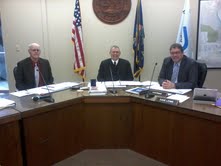 Tom Abbott, representing Wells Landing LLC, applied with Riley County Planning and Development to rezone a 25 acre tract of land.  This request for rezoning was discussed during Monday's County Commission meeting.
County Planner, Bob Isaac presented various pictures, maps and facts about the land.  The site is located northwest of the Anderson Avenue and Scenic Drive intersection, on the north side of Anderson Avenue.  The request involved splitting the land into four lots.  Various studies went into the research of this area, including noise levels and water sources.  Rural Water District #1 would provide the water source, as it is more convenient.
The commission unanimously approved the request.
During a previous commission meeting, video footage of the inside of the University Park sewer lines was viewed.  Cracks and blockages were viewed throughout the entire stretch of pipes, and it was decided repairs need to be done in the near future.  During that meeting, commissioners requested that Public Works Director, Leon Hobson, return for a work session.
That work session was held during Monday's meeting, and Hobson returned with more information about the project.  Hobson stated that this project would be a "two phase" project, with the first phase being the videoing and cleaning of the sewer lines.
A consensus was reached, by the commission, to move forward with the cleaning and videoing of the lines, but not yet to move beyond that point.
Kansas State University's Sesquicentennial celebration kickoff will be Thursday and KSU 150 Planning Committee Member, Cheryl Collins spoke about the event during the meeting's press conference.  An official program for the occasion will be held at Ahearn Fieldhouse at 4:00 p.m. that day, and shuttle service will run from the east football stadium parking lot to Ahearn.
The Beach Museum of Art's "Museum of Wonder" opening reception will also be that day at 5:00 p.m.
The "150th Brown Bag Lecture Series" will feature numerous speakers throughout the nine month celebration, in various buildings around the K-State campus.  The first speaker will be Director of the Beach Museum of Art, Linda Duke, who will present "Cabinet of Wonders" on Wednesday February 20th at 1 p.m. in the museum.
Collins also came before the commission as Riley County Historical Museum Director, to give a staff update.  Other items during the meeting involved-County Clerk, Rich Vargo's year to date budget and expenditure reports and County Attorney, Craig Cox's update.