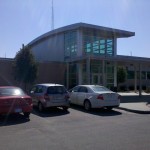 An ongoing investigation is looking into a report of theft, which occurred between December 1, 2011 and March 15, 2012.
Penny Nelson, 53, of Randolph, told the Riley County Police Thursday items from her home have gone missing.
Nelson believes she knows the suspect.
The total amount lost was about $1,400.
—
An indecent liberties with a child was reported Thursday in Manhattan.
Riley County Police stated a teenager and an elementary school student were playing at a park on February 6 when some inappropriate activity took place, which led to the report.
The suspect is known to the victim.
—
A Manhattan man has reported an unknown suspect has stolen a piece of his property sometime between 6:30 am on February 12 and 5:30 as of Thursday.
William Freeborn, 55, told Riley County Police his Buck Dandy brand flatbed trailer was stolen from the 5500 block of Marlatt Ave.
The total loss is $1,200.
Police are still investigating.