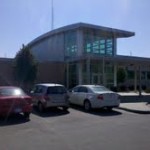 A case of child endangerment lands a Manhattan woman behind bars.
Riley County Police told reporters on Monday that Natalia Bejan,27 of Manhattan was taken into custody early Sunday morning and charged with one count of aggravated endangering of a child.
Bejan remains confined on a $7,000 bond.
Meanwhile, County Community Corrections Director Shelly Williams told county commissioners a two-year-old apparently left its home, with no parents in the residence at the time.  The child has been placed in foster care, and a court hearing is set to decide long term care needs for the child.
____________________________________________________________________________________________
Riley County Police are warning residents to be wary of a phone fraud that has claimed at least four victims recently.
The latest incident occurred sometime between noon on January 19th and 3:00pm on February 1st. The victim,  Judith Gomez,31 of Manhattan told police that an unknown person claiming to be a bill collector with Westar energy contacted her and requested payment for services. Gomez was asked  to purchase $750 worth of gift cards and to provide the numbers to those cards over the phone.
Gomez later realized that the caller had no affiliation with Westar, and contacted the police. Total loss in this case is $760.
Riley County Police warn residents that if someone not known to you contacts you and requests money or personal information, you have a right to ask questions. And, if there is any doubt, you can contact them to investigate.
____________________________________________________________________________________________