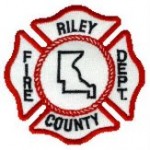 At about 5:45 pm Friday, the Riley County Fire Department was called to 16250 Fancy Creek Rd for a structure fire.
When volunteer firefighters from the nearby Mayday fire station arrived, they discovered two people outside of the home and that the upstairs bedroom was on fire.
Additional Riley County stations were requested.
Firefighters entered the building and quickly knocked down the blaze to keep it from extending to the rest of the house.
As more volunteers arrived, they were able to extinguish the rest of the smoldering items.
All fire units cleared the scene by about 8:30 pm.
The fire damage was contained to the bedroom and the cause appears to be a candle that was knocked over.
No one was injured and the family was able to stay in the home.
Total estimated damage is about $4,000.