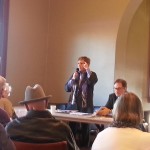 The Manhattan Area Chamber of Commerce once again held it's "Eggs and Issues" forum as the state legislation starts a new session. State Representatives Sydney Carlin and Tom Philips, along with State Senator Tom Hawk were on hand to answer questions and address the concerns of the residents of Manhattan. The format of the event was set up in such a way that each legislator received five minutes apiece to answer pre submitted questions. That was followed by each getting two minutes to address audience submitted questions. The event ended with closing remarks from each lawmaker.
The topics addressed covered a wide range of issues, with the main concerns being the proposed cuts to education in the state, the ending of the property tax deductions on state income taxes, and
Governor Sam Brownback's plan to merge the state's highway commission with the turnpike authority.
Representative Carlin stated that she enjoyed this kind of forum and interacting with people in this way, especially when they are in session, as they rarely get a chance to do something like this. She further states that they are doing a good job in communicating with the people of Manhattan through the local media, and that Manhattan residents are very well informed about what is going on in Topeka.
County Commissioner Dave Lewis, who was also at the event, says that as community leaders, the commissioners are very concerned with what goes on in Topeka "because that has an impact on the decisions that we make, especially when it comes to budgeting".
The event was free and open to the public, and was held at the Historic Union Pacific Depot. The next event will be held on March 2nd, at the same time and place.