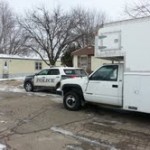 KMAN has received more information concerning the incident that occurred on Thursday in the Country Estates area.
The Riley County Police Department along with the Pottawatomie County Sheriffs office and the ATF, Alcohol, Tobacco and Firearms, issued three drug related search warrants in the morning hours between 10 and 11 am.
These resulted in the arrest of Robert Beattie, 25, Shameke Strong, 30, Scott Pittenger, 26, and Robert John Edleston II, 33, all of Manhattan.
Each is being charged with at least possession of methamphetamine and possession of drug paraphernalia.
Beattie, Strong, and Pittenger all had a bond of $10,000 each, while Edleston's bond was set for $15,000.
The investigation continues and KMAN will bring you details as they become available.