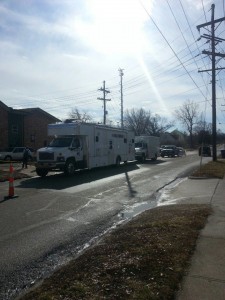 As KMAN reported early Friday afternoon, an investigation into a criminal damage to property lead to the arrests for the Dara's Robbery on Claflin, the same criminal damage to property case now has a connection with the fire on Sunset Avenue that took the life of Vasanta Pallem, 34.  Though, whether the robbery and fire are connected still has yet to be determined by officials.
Riley County Police have released information about the arrest of two individuals for the fire.
Patrick Scahill, 20, of Manhattan, was arrest for drug charges earlier this week which stemmed from the criminal damage to property investigation which he was confined on a $20,000 bond.
Now Scahill has been arrested for felony murder and aggravated arson.  He is now being held on a $1,000,000 bond.
Along with Scahill, Virginia Amanda Griese, 19, of Manhattan, was also arrested for connection to this fire.  Griese is also charged with felony murder and aggravated arson.  She is confined on a $1,000,000 bond.
The fire was determined to be intentionally set, as a result of the ongoing investigation.