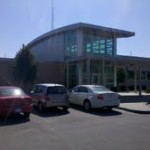 Riley County police made arrests in two separate incidents over the weekend.
According to police reports, Christopher Murray,28 of Fort Riley, was taken into custody around 5:20 Saturday afternoon and charged with one count of aggravated assault.
Bond was set at $5,000
Also on Saturday, Dirk Sparks,41 of Saint George, was arrested on a probation violation warrant.
Sparks remains confined on a $5,000 bond.
More information on these cases will be provided after Tuesday's press brief with the Riley County police.