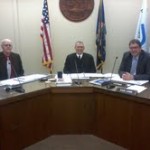 Green Break, better known as Fake Patty's Day, took place Saturday in Aggieville and the surrounding neighborhoods.  With the combination of the rain and the early K-State basketball game, the day got off to a slow start.
During Monday's Riley County Commission meeting, Riley County Police Director, Brad Schoen shared some of the statistics calculated from the event.  While many of the numbers stayed pretty consistent, the major drop was in disorderly conduct calls.  Schoen said 31 calls were reported during last year's event, and this year, the department only received 13.  Unfortunately, as part of that report, four battery of law enforcement officer cases were reported.  This was sad to see, especially since there were none last year.
Out of all of the reports filed-this year there was a total of 103, significantly down from last year's 152.
County EMS Director, Larry Couchman also shared some end-of-event statistics.  21 Fake Patty attendees were admitted to the emergency room from Fake Patty related activity.  Of those, 11 were primarily alcohol related and ten had some other type of medical complaint.  Of those ten, a good portion had some type of alochol component as well.
The legal blood alcohol limit is .08.  The lowest alcohol level treated in the ER was from an 18 year old, at 1.32.  The highest level, was a 20 year old at 4.21.
A total of 48 calls were reported last year during Fake Patty's Day, this year there was 46.
Herbicide bids were opened for Noxious Weed Director, Dennis Peterson.  A total of five bids were submitted, four from Kansas and one from another state.  All of the bids were submitted for 2.5 gallon containers:
Sims Fertilizer-Osborne, KS                                   Ester-$20.40            Amine-$13.09

Red River Specialties-Augusta, KS                      Ester-$18.34             Amine-$13.49
Van Diest Supply Company-Lindsborg, KS      Ester-#18.69             Amine-$12.89
John Deere Landscape-Cleveland, OH               Ester-$126.40          Amine-$18.32
Helena Chemical Company-Shawnee, KS          Ester-no bid              Amine- $30.00
All of the bids were approved for staff evaluation and recommendation.
Commissioners also approved a resolution appointing Dr. Cary Herl as the new Local Health Officer, effective April 2nd.