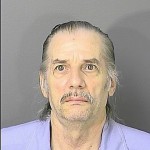 A 64-year-old man serving time for second degree murder and rape in Riley county for 40 years will stay in prison, after apparently being passed over for parole this time around.
Danny Lee Sprecker had been up for a parole hearing in February following the usual public comment sessions, but a check with the Kansas Department of Corrections indicates his next possibility for release is March of 2016.
Sprecker is currently being held in the Hutchinson facility.
The murder case involving Sprecker occurred in 1973, with the rape case in late 1968.