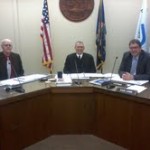 Conflicting opinions arose during Thursday's Riley County Commission meeting during the discussion of the sales tax asphalt overlay project.
Public Works Director, Leon Hobson came before the commission to ask what options they would like to take with this project. In previous years, the commission contracted the sales tax projects out to other companies. Now that the public works department has an asphalt truck, Hobson recommended using the county staff to complete the project.
Commissioner, Ron Wells indicated he spoke to constituents earlier in the day that believed this may not be the best option. Wells asked if the county would save any money by doing it themselves. Commissioner, Robert Boyd seemed to agree with Wells saying, "we should be contracting it out; this is not the type of work we should be doing with this machine." Boyd also stated, "if you have staff with time to do this, maybe you are overstaffed".
The discussion briefly turned to the recent hire of a seasonal worker, and whether this was the best move. Hobson stated there are only two seasonal workers on staff this year, and his staff is stretched for snow removal, saying "everyone must show up in order to have enough for snow removal".
Both commissioners Wells and Boyd had no doubts that the county workers could complete the job, and do it well. However, they both wanted to make sure they were making an efficient decision in terms of costs. For that reason, the commission requested Hobson look into how much they would save by having the county do the project and bringing that information back at a later date.
County Health Department Director, Susie Kufahl has a limited number of days left as she announced her resignation last month, but she had one request for approval. The KDHE grant has been approved in previous years, and the commission voted to approve it again this year.
Other presentations during the meeting include-Treasurer- Eileen King's monthly financial reports and Budget and Finance Officer- Johnette Shepek's procurement code discussion.